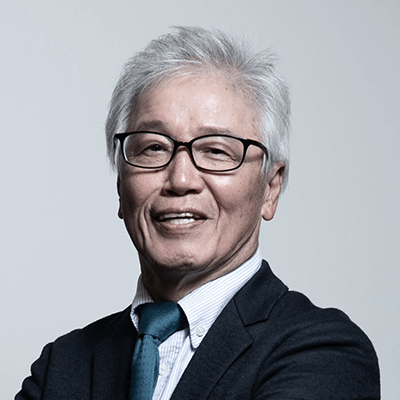 安部 修仁

株式会社吉野家ホールディングス 
会長
1949年福岡県出身。高校卒業後、プロのミュージシャンを目指して上京、バンドの傍ら、吉野家のアルバイトとしてキャリアをスタート。アルバイトからトップに上り詰めた叩き上げの経営者として知られる。1980年吉野家の再建を主導、92年に42歳の若さで社長に就任。在職中は牛丼価格280円への挑戦・BSE問題・牛丼業界価格競争等、強いリーダーシップで勝ち抜き、元祖牛丼店「吉野家の灯り」を守り続けた。2014年5月に吉野家ホールディングスの代表取締役を退任。若い後進に道を譲る。退任後は会長として、若い世代に自身の経験を伝えるため、精力的に活動。2016年9月、日本経済新聞の名物コラム「私の履歴書」に1ヶ月間掲載。主な著書として『吉野家~もっと挑戦しろ!もっと恥をかけ!』(廣済堂出版)『吉野家で経済入門』(日本経済新聞出版社)『逆境の経営学』(日経BP社)等がある。


YOSHINOYA HOLDINGS CO, LTD.
Chairperson Shuji Abe

In 1949, Mr. Abe was born in Fukuoka prefecture. He started working for Yoshinoya as part-time job when he came to Tokyo to be a professional musician. This was the beginning of his career and he worked his way up to the top.
In 1980, Mr. Abe led the reconstruction of YOSHINOYA CO., LTD. (Presently YOSHINOYA HOLDINGS CO., LTD."YHD") and appointed president in 1992 at the age of 42. He tackled the issues and lead to its growth during his tenure such as challenging 280 Yen for a regular beef bowl, BSE issue and price competition. "Yoshinoya" brand has been protected as the authentic beef bowl restaurant with his strong leadership.
In May 2014, Mr. Abe resigned president of YHD and handed it over to the young successor. He has been passing down his experience to the young generation as chairperson of YHD after his resignation.
The famous serial column "Watashino rirekisyo【My personal history】" was running in The Nihon Keizai Shimbun("Nikkei") during the month of September 2016.